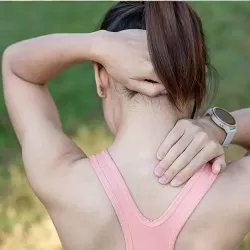 Welcome to DC Family Chiropractic, where we are committed to serving the families of Cañon City, Colorado, and surrounding communities through principled neurologically-based chiropractic. Dr. Dale "Chris" Buckhaults, D.C., C.K.T.P. assists families with making the best decisions regarding their healthcare needs and reaching their full potential.
We treat neck, back, headache/migraines, numbness, tingling, scoliosis, shoulder pain, arthritis, disc injuries, and carpal tunnel, along with providing chiropractic relief for pregnant women, seniors, and children.
Chiropractic care is a proven method to affect overall nervous system function and health, without the need for invasive procedures or medications. Chiropractic care is proven safe and effective for every age group, from infants to seniors.
Regular chiropractic care can be an effective treatment to reduce dependence on prescription drugs, alleviate the symptoms of a variety of ailments, and boost energy and overall health and wellbeing. Chiropractic care supports the body's natural ability to heal itself.
Helping You Achieve a Pain-Free Lifestyle
At DC Family Chiropractic, we assess the patient as a whole. We want to address the main concern, but also lead you into a lifestyle of being pain-free. We do all of this by offering an evidence-based approach to chiropractic care by utilizing chiropractic manipulation, soft-tissue techniques, therapeutic rehabilitation, and a variety of chiropractic services to help achieve your health goals.
Most people believe that chiropractors treat back pain. That is true, but there is so much more that chiropractic care can achieve. Chiropractic was developed to correct any health issues by using spinal adjustments to correct misalignments (aka subluxations) and restore normal neurological functioning.
The benefits that chiropractors provide can be seen in a variety of health conditions for all ages and genders including senior citizens suffering from joint pain and/or injuries. Even relatively healthy people can see improvements. Most of us put our bodies through a lot. Regular adjustments can help to restore balance within the body.
Using Multiple Unique Modalities To Achieve Wellness
Our unique approach to chiropractic gives our patients the tools they need to heal effectively and prevent future recurrences. We combine physical therapies and chiropractic adjustments to address the root factors of each problem.
Manual muscle therapies

Joint manipulation

Rehabilitative exercise

Nutritional counseling
In addition to providing the best chiropractic care in Fremont County, Colorado, DC Family Chiropractic conducts sport physicals for student athletes and campers. Athletes of all ages that have suffered from an injury or condition that is affecting everyday life can find relief with Kinesio Taping at our offices in Cañon City.